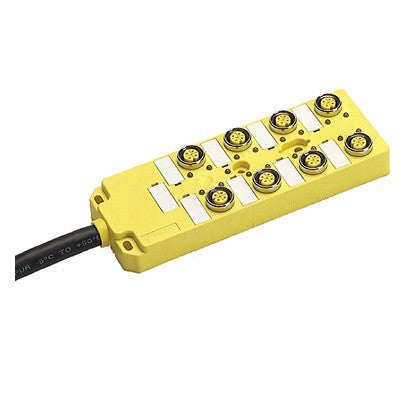 ULTRA-MPIS-8W-8I/O-MC
Mfr. Part No. 120119-0017
Empire Part No. BH-BKY801P-FBB
UPC
Ultra-Lock (M12) Molded Junction Box Top Mount Mini-Change (M23) Home Run Connector 8 Port PNP  Single I/O per Port
Ultra-Lock connectors incorporate a mechanical locking design and a unique radial-seal that deliver unsurpassed performance.

The patented push-to-lock technology provides a simple and secure operator-independent connection. This positive locking design provides built-in reliability that eliminates connector related intermittent signals in the harshest environments. Fewer intermittent signals mean less downtime and better productivity.

While the unique radial o-ring seal design similar to what is found in hydraulic connectors provides a more robust protection against water ingress even in high-pressure washdown environments.